What was announced during Minecraft Live 2023? Every time Fall comes around, there are a few certainties: Halloween, Pumpkin Spice, comfy knits, and Minecraft Live. 2023's huge Minecraft broadcast was used to announce some of the new features coming to the popular game, as well as its huge annual update, and now we know the first mechanics coming in 2024.
Each year, usually around the Summer, a brand-new, epic update comes to everyone's favorite sandbox game, and undeniably one of the best PC games of all time, Minecraft. That's only the second best time of the year for the Minecraft community though, as the Minecraft Live Broadcast in which these updates are revealed for the first time are super exciting to watch. Now that Minecraft Live 2023 has been and gone, here's everything that was announced.
When was Minecraft Live 2023?
Minecraft Live 2023 took place on Sunday, October 15, 2023, at 10am PDT / 1pm EDT / 6pm BST, but you can still catch the VOD on the Minecraft YouTube channel.
To start things off, as usual, our favorite Minecraft YouTubers kicked off the show with a round-up of the last year in Minecraft. Content creators including SmallishBeans and DanTDM showed off their year in Minecraft SMPs and Minecraft Legends, which other streamers and YouTubers displayed their incredible builds from the past 12 months and beyond.
Mojang kicked off the show with reveals for their other games, including Minecraft Legends, Minecraft Dungeons, and Minecraft: Education edition, followed by updates about the main game itself and the always popular Minecraft Live mob vote.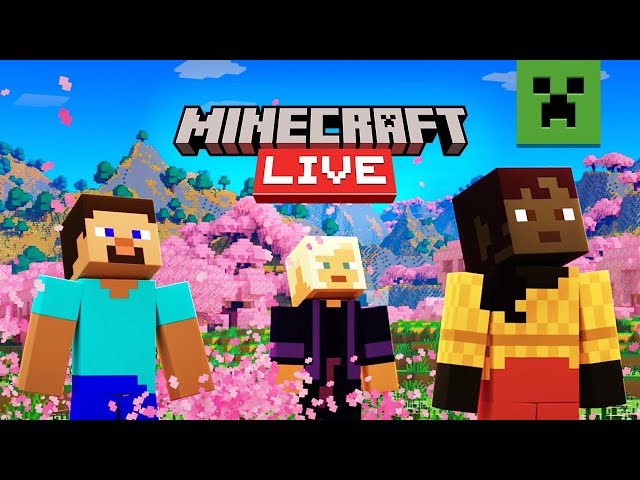 How to watch Minecraft Live 2023
You can rewatch Minecraft Live on the Minecraft YouTube channel, including smaller clips of each individual announcement.
As they've done in the past, Mojang has also uploaded individual trailers to their YouTube channel after the show, and there are plenty of teasers  and blog posts across all their socials and the Minecraft website.
Minecraft Live mob vote
Following a boycott and mob vote petition, the Minecraft mob vote still went ahead during the broadcast, with players having voted for their favorite of the three cute critters in the 48 hours before the stream. We won't put any spoilers here in case you're still catching up on the show, but you can check out our run down of the Minecraft mob vote to find out who won, as well as the individual guides for all three entries: the Minecraft Crab, Minecraft Armadillo, and Minecraft Penguin.
Don't worry too much if your mob didn't win the vote, as Mojang employee Vu hinted that we should never say never, and that these mob vote losers could still find their way into the game in the future.
Minecraft Live 2023 announcements
Minecraft 1.21 update
The main thing the Minecraft community looks forward to every year is the next big Minecraft update. This year, in celebration of the game's 15th anniversary, we're getting some impressive overhauls to the base game as we know it. Labelled the Vanilla update, Minecraft 1.21 is getting a new, procedurally generated underground structure, trial chambers, which house new mob spawners and a new Minecraft mob, The Breeze.
This next update also brings new automation to crafting with The Crafter, a new redstone crafting table which can be hooked up to a redstone trigger to craft and pump out items automatically. We've got more details on everything coming to the update in our dedicated Minecraft 1.21 vanilla update guide.
Star Wars Path of the Jedi DLC
Star Wars returns to the blocky world of Minecraft in another official DLC. This time though, there's more than ever to experience in this new intergalactic RPG experience as you step into the shoes of a young padawan and embark on your training to become a fully fledged Jedi Knight. The Path of the Jedi Minecraft DLC is coming to the Minecraft Marketplace on November 7, 2023.
Planet Earth III Minecraft DLC
We've seen crossovers with Minecraft and the BBC Planet Earth series before, and the pair are coinciding once again to celebrate the release of the Planet Earth III series. The DLC will be available for Minecraft Education edition, and can be purchased from the Minecraft Marketplace for Bedrock edition in 2024.
So that's everything we've seen so far, but there's plenty still to be announced for the Minecraft 15th anniversary year, including more features coming to the 1.21 update. If you're still getting to grips with the mechanics announced in last year's Minecraft Live, we've got all the tools to help you understand Minecraft armor trims, locate Minecraft cherry grove biomes, and get your hands dirty with Minecraft archaeology – just make sure you've got a Minecraft brush to hand. We've also found all the best Minecraft seeds to experience these new features.