Disney Dreamlight Valley is ever-growing thanks to Gameloft and its steady content releases. With regular updates, we fans of the cozy game are never without something new to do for very long. After revealing DDV's full launch out of early access and an upcoming expansion dubbed A Rift in Time, Gameloft has just dropped a detailed roadmap that delves further into the paid DLC's features and what we can expect to see arrive in-game, including characters, realms, and more.
Following last week's reveal of A Rift in Time, Gameloft hosted a big showcase detailing other coming Disney Dreamlight Valley features. The life game has a lot in store for us, including fan-favorite characters like Jack Skellington, the Pumpkin King himself, and new princesses. In the official roadmap, the developer details such additions as well as the game's "biggest amount of fixes and improvements so far."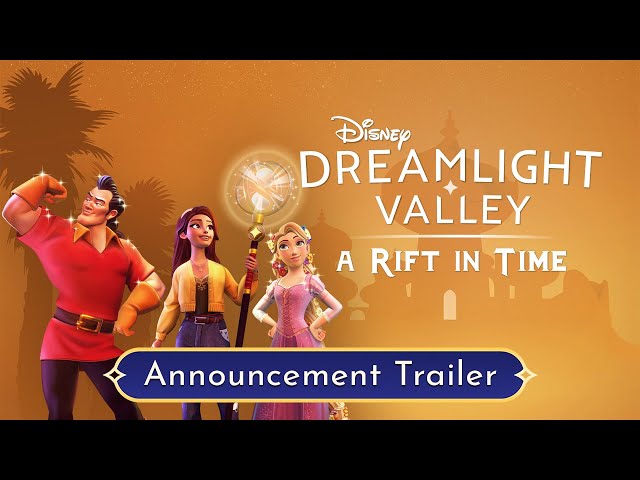 On Tuesday, December 5, we'll have access to Dreamlight Valley's first-ever paid expansion and its massive new world, Eternity Isle. This is when we'll meet Jack and new critters like capybaras. A fresh storyline then arrives with the first of three acts and accompanying biomes – Ancient's Landing, the Glittering Dunes, and the Wild Tangle. The first act features Wall-E's long-awaited mate Eve, Beauty and the Beast's distasteful Gaston, and Rapunzel from Tangled.
Later in the winter, we'll get to introduce one of my favorite characters ever to our valleys. That character is none other than the adorably rotund green specimen that is Mike Wazowski from Monsters, Inc. Mike isn't alone, though, as Sulley is coming to Dreamlight Valley at the same time in 2024. Following the two monsters and their silly realm is Tiana, another stunning princess to brighten our valleys up with.
2024 is a big year, as it will also see us take on Jafar from Aladin to stop the manipulative villain from acting out his schemes. Jafar's secret plans aren't the only mysteries we'll have to unravel though, as the roadmap seems to tease some sort of secret new character and accompanying realm. Check the part labeled as "late spring of 2024" and you'll see a picture of a realm door with a message saying, "You don't find a realm like this in every dynasty."
Could it be Mulan? I'm crossing my fingers for her. Gameloft also finally revealed Dreamlight Valley multiplayer features, which means we'll get to play through the new content with our friends. If all of these reveals aren't enough to keep you occupied, the dev also says that a new Star Path will come with every update. Until the first batch of content drops, I'll enter all of the latest Disney Dreamlight Valley codes and decorate to ready my valley.