October 22, 2023: The next Blox Fruits update lands today, so we'll add any new codes as soon as they arrive.
What are the new Blox Fruits codes? We've compiled a regularly updated list of all Blox Fruits codes to redeem in-game freebies like XP boosts, free Beli, and stat resets for your pirate adventures. Need a boost to take on the increasingly tricky competition? We've got you covered.
Blox Fruits is one of the biggest Roblox games ever, thanks to its fun, anime-inspired pirate action. That said, it can be challenging to find new Blox Fruits codes, much like Anime Adventures codes, Project Mugetsu codes, and All Star Tower Defense codes, but we've done the hard work and listed them all in one place below.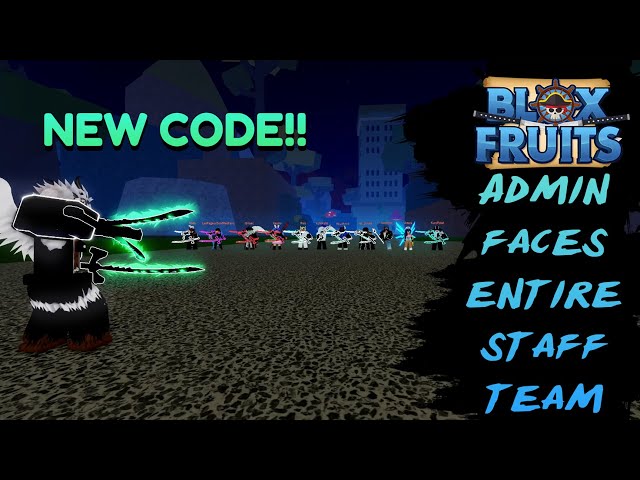 New Blox Fruits codes
Here's a full list of all the latest Blox Fruits codes:
SECRET_ADMIN – double XP (NEW)
ADMIN_TROLL – double XP (NEW)
KITT_RESET – stat reset (NEW)
STAFFBATTLE – free rewards
ADMIN_STRENGTH – double XP
JULYUPDATE_RESET – stat reset
Fudd10 –  one Beli
fudd10_v2 – two Beli
Bignews – in-game title
Sub2CaptainMaui – double XP
Sub2Fer999 – double XP
Enyu_is_Pro – double XP
Magicbus – double XP
JCWK – double XP
Starcodeheo – double XP
Bluxxy – double XP
SUB2GAMERROBOT_EXP1 – double XP
Sub2NoobMaster123 – double XP
Sub2UncleKizaru – stat refund
Sub2Daigrock – double XP
Axiore – double XP
TantaiGaming – double XP
StrawHatMaine – double XP
Sub2OfficialNoobie – double XP
TheGreatAce – double XP
Expired codes
NOOB2PRO – double XP
DRAGONABUSE – double XP
DEVSCOOKING
NOOB_REFUND
EXP_5B
RESET_5B
UPD16
3BVISITS
2BILLION
15B_BESTBROTHERS
CINCODEMAYO_BOOST
ADMINGIVEAWAY
GAMER_ROBOT_1M
SUBGAMERROBOT_RESET
SUB2GAMERROBOT_RESET1
GAMERROBOT_YT
TY_FOR_WATCHING
UPD15
THIRDSEA
1MLIKES_RESET
UPD14
1BILLION
ShutDownFix2
XmasExp
XmasReset
Update11
PointsReset
Update10
Control
If any Blox Fruits codes happen to expire, we'll drop them into the separate list above to save you from the bother of checking them yourself.
How do I redeem Blox Fruits codes?
To redeem Blox Fruits codes, simply follow the step-by-step instructions below:
Open Blox Fruits via the Roblox page.
Choose your side.
Click on the Twitter symbol on the left in the row of buttons above the compass.
Copy a Blox Fruits code from the list above and enter it.
How do I get more Blox Fruits codes?
You can find new Blox Fruits codes on the developer Gamer Robot Inc's social media pages, including Twitter and Discord; they usually release new codes around an update. However, we've made it even easier for you as we'll continue to update our list with the latest active Blox Fruits codes regularly, so be sure to bookmark this page.
Now that you're up to date on the new Blox Fruits codes for the Roblox game, here are the latest Roblox promo codes and Roblox music codes for more free in-game goodies.